Quiet Christmas Service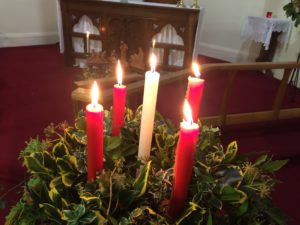 Sunday 17th December at 3pm
A reflective service for those who are missing loved ones this Christmas.
Christingle Carol Service
Christmas Eve at 6pm
A carol service with Christingles and a retelling of the Nativity story. Seasonal refreshments available after the service. There will be a collection for Aberlour – Scotland's Children's Charity.
Christmas Day Service
Christmas Day at 10am
A service of Holy Communion with Christmas carols celebrating the birth of Jesus, the Prince of Peace.
Regular Services
Sundays at 11am
Thursdays at 10am
St Oswald's Church is located at the corner of Cargill Road and Gardenrose Path, Maybole.