The Rev Jim Geen – Priest-in-Charge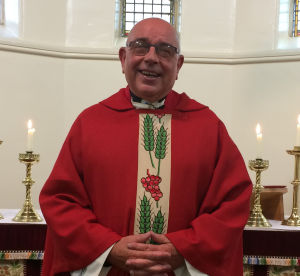 Jim has been Priest-in-Charge at St Oswald's since June 2017. If you would like to speak to Jim you can find him at most of our services or follow the link to his contact details.
Jim is also the Chaplain to the Maybole Branch of the Royal British Legion.
Jim was ordained in 1979 and served 11 years in various parishes before joining the prison service as a chaplain, working in local prisons, Young Offender Institutions and high-security prisons.
He left the English prison service to work in HMP Kilmarnock, initially as chaplain and then becoming Assistant Director responsible for regimes and diversity.
In 2009 he transferred to London, working at Colnbrook Immigration Removal Centre as Assistant Contract Manager for regimes and equality, retiring in 2014.
Jim: "My work brought me into contact with chaplains of most of the world faiths, which was enriching and challenging as we sought a team-based approach to a multi-faith population of staff and inmates.

"Leading on Equality brought an understanding of humanity in all its richness, regardless of race, colour, sexuality, age or ability.

"My prayer is that I can bring some of this experience and richness to my role as priest and as a member of the St Oswald's family."
___________________________________
The Rev Liz Crumlish – Assistant Curate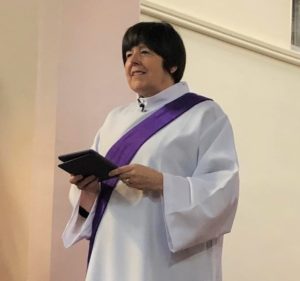 Liz was ordained deacon in December 2020 and priest in July 2021 and is serving her curacy at St Oswald's.
Liz brings a wealth of experience in ministry, having been ordained in the Church of Scotland 25 years ago. She has worked as a Health Care Chaplain in Greenock and in parishes in Inverkip and Ayr. Liz is a Pastoral Supervisor and Associate Member of the Institute for Pastoral Supervision and Reflective Practice.
She is married to Idris and they have two grown up children, Ruaridh and Zara, and a granddaughter, Evie.
Liz: I'm looking forward to soaking up Episcopal traditions and culture as I work alongside Jim and all of you. I tend to process thoughts as I walk the beach and I often write about the places I encounter God at: www.liz-vicarofdibley.blogspot.com.
___________________________________
Vestry
The Vestry is the group of people that act as trustees for the church, which is a registered charity, and are responsible for assisting the Priest-in-Charge in the spiritual welfare of the congregation, the mission of the whole Church and many of the day to day issues associated with running a church. The clergy are members of the Vestry due to their position but the members below are elected:
Matthew Wyllie (Secretary)
Ruth Mundell (Lay Representative)
Susie Burr (Treasurer)
Mike Burr (PVG Coordinator and Vestry Member)
Becky Fleming (Alternate Lay Representative, Property Convenor & Health and Safety Officer)
Petko Marinov (Vestry Member)
Jill Offer (Vestry Member)