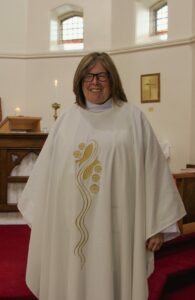 The Rev Liz Crumlish was licensed Priest-in-Charge of St Oswald's Church by the Rt Rev Kevin Pearson, Bishop of Glasgow and Galloway, on Thursday 22 June 2023. The church was full as members of the congregation, community and clergy from across the Diocese came to show their support for Liz and St Oswald's.
Liz was appointed Priest-in-Charge following the retirement of St Oswald's previous Priest-in-Charge, the Rev Jim Geen, who retired on Easter Sunday 2023. Prior to this, Liz served as Assistant Curate at St Oswald's.
Liz was ordained deacon in 2020 and priest in 2021 and is the Initial Ministerial Education (IME) 2 Officer for the Scottish Episcopal Institute. She is also a Pastoral Supervisor and Associate of the Institute for Pastoral Supervision and Reflective Practice. Previously, Liz served as a Church of Scotland minister for 25 years and worked as a healthcare chaplain in Greenock and in parishes in Inverkip and Ayr. She is married to Idris and they have two grown-up children, Ruaridh and Zara, and a granddaughter, Evie.
You can see pictures from Liz's licensing service here.