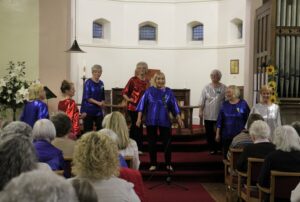 We were delighted to welcome Maybole Concert Party to St Oswald's to perform a charity concert for Ukraine on Tuesday 19 April. Tickets for the concert sold out in less than a week and the church was full on the night. The Concert Party were in good voice and performed a range of well-known hits, including 'Take me home country roads', 'Walking back to happiness' and finishing with 'Skyfall'. Following the concert, guests enjoyed refreshments and a large spread of cakes and baked goods that had been prepared by members of the concert party and St Oswald's congregation.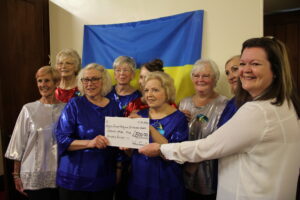 The concert was performed to support Ukrainian refugees through the UNHCR (United Nations High Commissioner for Refugees) which is the UN's Refugee Agency. An impressive total of £1552 was raised through the generosity of those who attended. This includes ticket sales, donations on the night and also a £500 donation from William Grant and Sons at Girvan Distillery.
Thanks to Maybole Concert Party and all those who came to make it a special night.