Wednesdays at 7.30pm via Zoom. From Wednesday 2 December to Wednesday 23 December inclusive.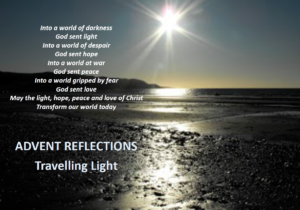 This year, we will be holding a four session Advent course, based on the daily prayers and  reflections of Liz Crumlish. Her booklet of daily prayers and reflections, Travelling Light, are available to download here: Travelling Light
Each session will close with a short service of compline (night prayer).
Please contact Matthew at secretary@stoswaldsmaybole.org.uk for the Zoom link to take part.