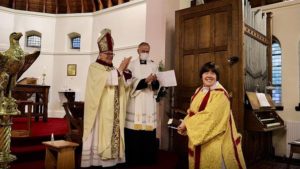 The Rev Liz Crumlish was ordained deacon at St Oswald's Church by the Rt Rev Kevin Pearson, Bishop of Glasgow and Galloway, on Sunday 13th December. Liz is now serving her curacy at St Oswald's. You can watch the video of her ordination here.
Liz brings a wealth of experience in ministry, having been ordained in the Church of Scotland 25 years ago. She has worked as a Health Care Chaplain in Greenock and in parishes in Inverkip and Ayr. She is currently working for the Church of Scotland as the National Coordinator for Renewal and Pioneering. Liz lives in Prestwick and is a member of St Ninian's Episcopal Church. She is married to Idris and they have two grown up children, Ruaridh and Zara, and a granddaughter, Evie, who was born in February of this year.
Liz: I'm looking forward to soaking up Episcopal traditions and culture as I work alongside Jim and all of you as well as working out how to balance that alongside my full time role in Renewal and Pioneering in the Church of Scotland.

I tend to process thoughts as I walk the beach and I often write about the places I encounter God at: www.liz-vicarofdibley.blogspot.com.