Priest-in-Charge: The Rev Jim Geen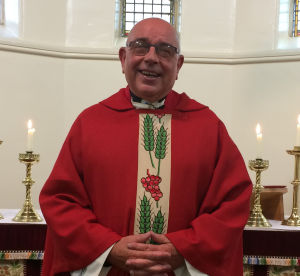 Jim joined St Oswald's as Pastoral Visitor in August 2016 before becoming Priest-in-Charge in June 2017. If you would like to speak to Jim you can find him at most of our services or follow the link to his contact details.
Jim is also the Chaplain to the Maybole Branch of the Royal British Legion.
Jim's Background
Jim was ordained in 1979 and served 11 years in various parishes before joining the prison service as a chaplain, working in local prisons, Young Offender Institutions and high-security prisons.
He left the English prison service to work in HMP Kilmarnock, initially as chaplain and then becoming Assistant Director responsible for regimes and diversity.
In 2009 he transferred to London, working at Colnbrook Immigration Removal Centre as Assistant Contract Manager for regimes and equality, retiring in 2014.
Jim: "My work brought me into contact with chaplains of most of the world faiths, which was enriching and challenging as we sought a team-based approach to a multi-faith population of staff and inmates.

"Leading on Equality brought an understanding of humanity in all its richness, regardless of race, colour, sexuality, age or ability.

"My prayer is that I can bring some of this experience and richness to my role as priest and as a member of the St Oswald's family."