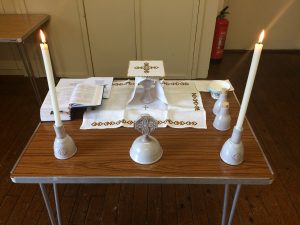 Girvan is the largest town in St Oswald's parish and is of great importance to the future mission and ministry of our church. Since the Episcopal Church of St John's, Girvan closed and the congregation had their last service in 2014, it has become increasingly important to us to have a presence within the town to serve the people there and in surrounding villages.
Rev Jim Geen started a monthly service of Holy Communion in Girvan South Parish Church Hall in March 2017. These services continue on the first Wednesday of each month at 1.30pm, followed by tea and coffee.
The land where St John's Church used to be is still owned by the Diocese of Glasgow and Galloway and St Oswald's is currently making plans to develop it for community use.
Jim also aims to be in Girvan at least fortnightly. If you would like to speak to him you can find his contact details here.